Megan Donaldson and Team are dedicated in working smart and providing the highest level of service in the real estate business. Part of the Team concept in partnership with our clients is taking time to have FUN too…Here's our "WEFF" – Weekend Event Fun Free activities. Our business generates a lot of new clientele on the weekend. Please share these activities with your family, friends, neighbors and business associates as we know that's where our next REFERRAL is generated. Visit my website www.megandonaldsonrealestate.com for weekly activities.
SATURDAY, September 24, 2016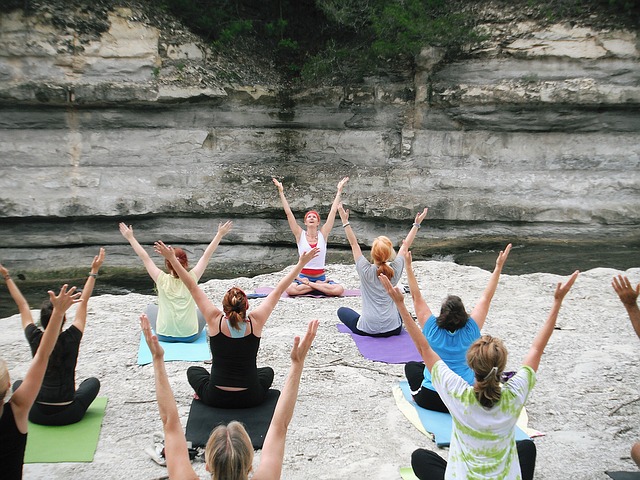 Enjoy yoga in the park — It's the last week of Savasana into Summer at Hermann Park, thanks to Namitzi Yoga. Meditation is 8:15 am – 8:25 am with yoga from 8:30 am – 9:30 am. This is located near the Reflection Pond at Hermann Park.
Learn about girls in aviation — Girls in Aviation Day Houston is a free event sponsored by the Houston chapter of Women in Aviation Saturday, 10 am – 2 pm, at Moody Park. The free event, geared to girls ages 10 – 17, encourages girls to talk to female pilots, learn about Air Traffic Control, experience how an aircraft engine works, and learn about the science/physics behind airplane aerodynamics and more! Go online to register for this free event. Lunch is included. Women in Aviation hope is to inspire young girls/women to pursue a career in aviation. Located at Moody Park, 3725 Fulton.
Volunteer to help the habitat — Sign up to volunteer at Hermann Park for National Public Lands Day Saturday, 9 am to noon. You'll be working at Hermann Park's Bayou Parkland. National Public Lands Day is the single, largest day to volunteer on America's public lands. For more info or to volunteer email volunteer@hermannpark.org.
Love the flowers — Don't miss The Woodlands Wildflower Festival, 10 am – 2 pm, features environmental exhibits, community booths and nature-related items, live music, free giant inflatable rides, petting zoo, face painting, and balloon art. Kids will love visiting The Woodlands mascot Puffy Pine Cone. Located at 2099 Lake Robbins Drive in The Woodlands.
Browse a museum — Visit participating Houston-area museums for free Saturday, September 24, as part of Smithsonian Magazine Museum Day. One pass for two people per household. Check out my previous post here for details and list of Houston participating museums.
Prepare for a crisis — Engage with participating chefs in Ready Houston Preparedness Kit Chef's Challenge Saturday at Market Square Park, 3 pm – 5 pm. Each chef must prepare a gourmet dish from canned and shelf-stable ingredients. Judges sample the dishes and select a winner. Participating chefs are Eric Aldis, executive chef at Corner Table; Paul Friedman, executive chef and owner of Peli Peli; Junnajet "Jett" Hurapan, executive chef of Songkran Thai Kitchen; Kenten Marin, executive chef at Shade; and Antoine Ware, executive chef at Harold's Restaurant, Bar and Terrace. Located at 301 Milam downtown.
Indulge in bugs and brew — Check out Tomball's Beetles, Brew & Barbecue Festival 11:30 am – 6 pm. It's like a Texas Oktoberfest! The free event features more than 150 classic VW bugs, barbecue, Texas craft beer, and live music. Families will love the Kids' Zone. Free parking. Located in Tomball at 201 S. Elm.
Visit a national park — U.S. National Park Service designates Free National Park weekends for all of its 400+ national parks throughout the year. The next one is this Saturday for Public Lands Day. Texas is home to several national parks, preserves, and historic sites that will offer free admission: Big Bend National Park, Fort Davis National Historic Site, Guadalupe Mountains National Park, and Padre Island National Seashore.
Get ready for RenFest — Head to Magnolia for Stroll through the Renaissance Saturday, 3 pm – 7 pm. The free event celebrates the Texas Renaissance Festival: meet the king and queen, play games, indulge in food, and win prizes. Free admission and free parking. Located Magnolia Town Center.
Watch movies under the stars — Head downtown to Discovery Green for Star Wars: The Force Awakens, 8 pm. Located at 1500 McKinney.
Sway to the music — Foundation for Modern Music presents this free performance Salsa y Salud. It features salsa arrangements to famous songs, world premieres, and guest artists from several countries. This is an evening of high energy, entertainment and cultural diversity. Free reserved seats are available performance day at the Miller Box office beginning at 10:30 am.
SUNDAY, September 25, 2016
Enjoy the outdoors — Take Me Outdoors Houston returns Sunday to Discovery Green, 10 am – 3 pm. In partnership with Texas Parks and Wildlife, families can enjoy hands-on education opportunities and local attractions. Located at 1500 McKinney.
Megan Donaldson is ACCEPTING NEW CLIENTS. For a real estate consultation for a LIFESTYLE with your next property purchase designed for you, please call Megan at 713-385-5231 or email: megan.donaldson@remax.net